Expense Reporting in Five Steps
PREMIUM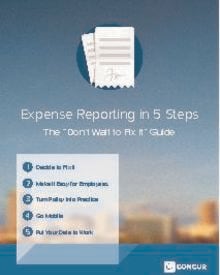 Fix your expense reporting and save money.
You probably didn't get where you are today by waiting to be asked to fix anything. You're someone who takes action, which means you don't wait for problems to fix themselves. You identify what's broken or should work better, and then you do something about it.
Even the best-run businesses have room for improvement. By recognizing that an automated, cloud-based system can fix a lot more than expenses, and deciding to make that happen for your company, you can improve:
- Operational efficiency
- Revenue growth
- Compliance
- Cost containment
- Fraud and risk
- Visibility
With this step-by-step guide, you can take a good, hard look at your organization's current expense reporting system, and then learn what you can do to fix it.
Please share a little information about yourself
Enter your contact information and submit this form using the button below to receive marketing communications regarding Concur products, services, events, and special offers. You may withdraw your consent at any time.
*all fields required