Implementing SAP Concur Solutions
How we support Canadian businesses in automating their spend management
Automating your spend management is easier than you may think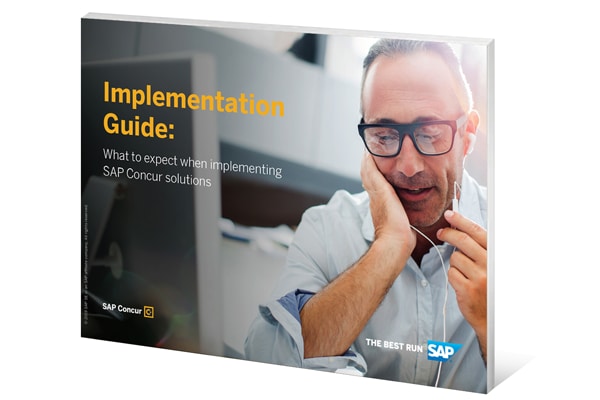 Each year, we help hundreds of Canadian businesses—of all sizes—get up and running with the latest SAP Concur expense, invoice and travel management solutions. Although each of these companies may be unique, they all embark upon a similar implementation journey with common needs, expectations and desired outcomes.
Learn about how we can support your company with our 3-step SAP Concur implementation process.
Three connected solutions. One connected team.
Our dedicated implementation team can help you leverage the power of the cloud so you see and control your entire spend.
Experienced
Our implementation team members are experts.
We successfully implement hundreds of SAP Concur solutions each year.
Knowledgeable
We understand business in Canada.
Our solutions are used every day by Canadian CPG, manufacturing, retail, service companies and more.
Adaptable
We support companies of all sizes.
Our implementation process can be tailored to the needs of your company, regardless of its size and complexity

Most times, when you're looking at new software, it's a big implementation, but this was simple. What Concur does for us is what some large companies work on internally for years and still cannot do.
Implementation Success Stories
Hear from Canadian businesses that are already benefitting from SAP Concur solutions.
ABM
Learn how SAP Concur helped ABM Integrated Solutions increase its expense capture and re-bill rate from 50% to 90% – transforming ABM's business and the businesses of their clients.
BDC
Learn how SAP Concur helped the BDC embrace the same kind of digital transformation it encourages in Canadian entrepreneurs, resulting in greater efficiency and accuracy for the business and happier employees overall.
Sleep Country
Learn how SAP Concur helped Sleep Country evolve its invoice and expense process to improve efficiency, visibility and control.
Take the first step toward truly controlling your spend
Complete the form to have a sales representative contact you about how SAP Concur solutions can help your company or call (888) 883-8411 today.
Thank you for contacting us about a better way to manage travel, expenses or invoices
We have received your request for information, and we will be in touch with you soon.