The COVID-19 pandemic has changed nearly every aspect of how work is conducted. This "new normal" was at the forefront of our minds this summer as we sought to create two new online video advertisements that speak to the challenges faced by small and mid-sized businesses. The videos we had in mind would need to speak to the reality that, on top of having to worry about the health of their businesses during an economic downturn, working from home has also been a big adjustment. We wanted to make it clear that SAP Concur solutions make this new work environment much easier.
I am sharing our experiences putting the ads together because other organizations – including our thousands of customers – might benefit from hearing how we overcame pandemic-era challenges during the production. The overarching puzzle we faced was how to create these videos while adhering to necessary and important state and federal health guidelines. "No ad is worth risking the health and safety of our team and contactors," Kate Ratliffe, our director of advertising, rightly points out.
Perhaps the most creative solution that Kate's team came up with was around how to shoot at least one of the ads with actors that could interact with each other – and not from six feet away. The answer was elegant and effective: The team hired a family. In the spot, a woman appears to be enjoying a spa treatment to sounds of a pan-flute until the camera zooms out and reveals her to be filing an expense report from home. Viewers also learn that the spa's ad-hoc staff members are her daughters. What viewers don't realize is that the girls are the actor's real-life children.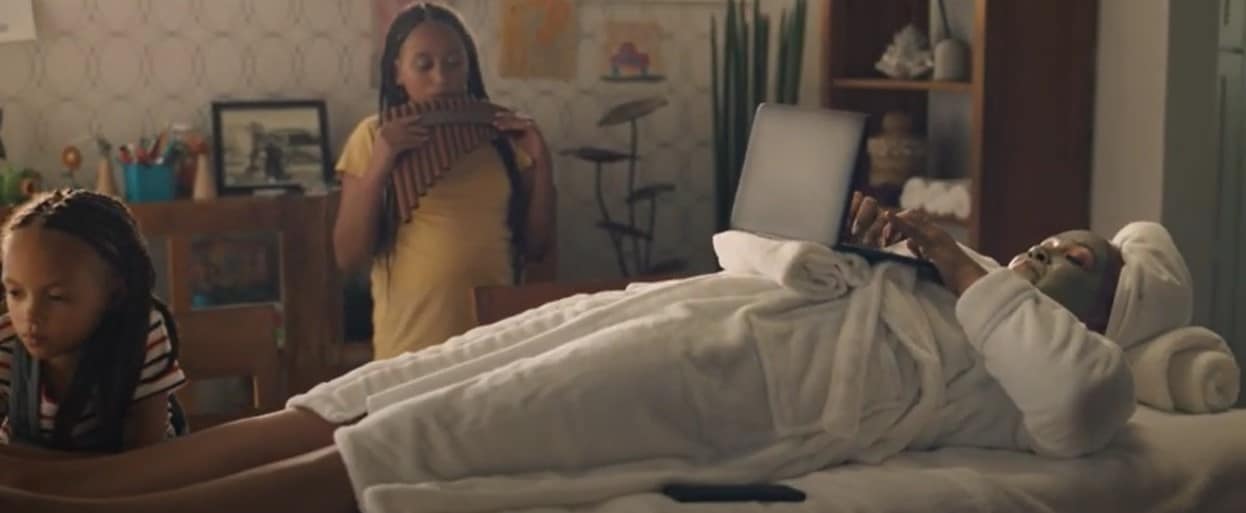 "Casting an actual family went a long way in ensuring that the actors had great chemistry," Kate says. "Making it a family affair also helped in making sure they were comfortable enough with each other that unusual aspects of the shoot, such as staying well away from the small crew and constant sanitizing and cleaning, didn't get in the way of their energy. This also minimized the bubbles of people involved."
Acting is a family affair for Los Angeles's, Michelle Kopacz. "It was so much fun," she remarked after the production wrapped. "My girls had just told me they wanted to appear in something with me when this job came along. It was my seven-year-old's first acting job. And my 12-year-old, who loves to ham it up, her personality came through perfectly." Kopacz also works as a teacher, and like most of us, she's also working from home these days. So, in one sense, this shoot was just another day at the office for the Kopacz family.
Another issue was how to spur creativity on-set. This was a significant problem to solve, as these videos were written to be humorous. People don't always expect laughs in business-to-business advertising, which is why we use it in unexpected ways to capture the audience's attention. Kate worried, however, that with the production team, actors, and creative team all working apart, it would detract from the energy and improvisation that usually happens when people can work together directly.
Part of the solution was to use digital communication tools like Zoom to communicate across continents – as our team is global – and to hire a director that is flexible and collaborative. That's where Director Dave Laden, from Hungry Man Productions, came in. Thanks to his many talents, he was able to spur nearly the same level of collaboration virtually throughout the eight-hour shoot. "The SAP Concur team, and our creative agency, BBDO, all sat on the video conference for the entirety of the production day and immersed ourselves in the shoot through our laptops," Kate told me. "We were able to able to provide feedback and ideas in real time."
So, while we hope the world goes back to normal sooner rather than later, with a little ingenuity and adaptability, it's still possible to create great outcomes in new ways. Please see the full spots below. And if you are an organization struggling to manage your operations from home, please visit Concur.com to learn how we can help.