Accounts payable automation in Canada
Simplify the accounts payable process with accounts payable (AP) automation.
The automation revolution: Get more out of your accounts payable process
How many invoices does your organization receive each day? A handful? Hundreds? Thousands? No matter the quantity, invoice management is typically a resource-consuming manual process. In fact, a cross-Canada survey revealed that almost 80% of finance decision makers feel their invoice process could be improved.
While spreadsheets, paper invoices and manual data entry were once the only options, accounts payable automation has transformed invoice management, saving businesses time and money:
5 year ROI of 505%
5 month payback period
53% faster invoice process time
$15,418 per 1,000 invoices processed in annual benefits
With Concur Invoice, your organization can:
Capture invoices electronically, eliminating manual data entry
Use our mobile app to automatically route invoices and simplify approvals for a more streamlined workflow
Ensure vendors are paid on time, every time, eliminating penalties and improving cash flow management
Integrate with ERP and accounting systems for a more complete view of spending
Gain more visibility and control across the entire AP process with customizable reports and dashboards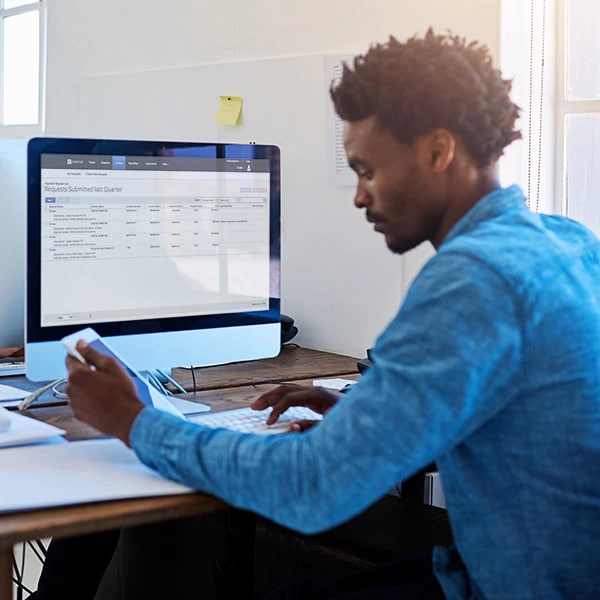 Save time and standardize invoice data with automated invoice capture
By switching from a manual invoice processing system to a fully automated, cloud-based AP process, you can cut costs, save time, and cut down on errors. Concur Invoice captures invoices electronically using optical character recognition (OCR) technology, uses two- and three-way matching to pair the PO to its associated invoice, then accurately records it to your AP system.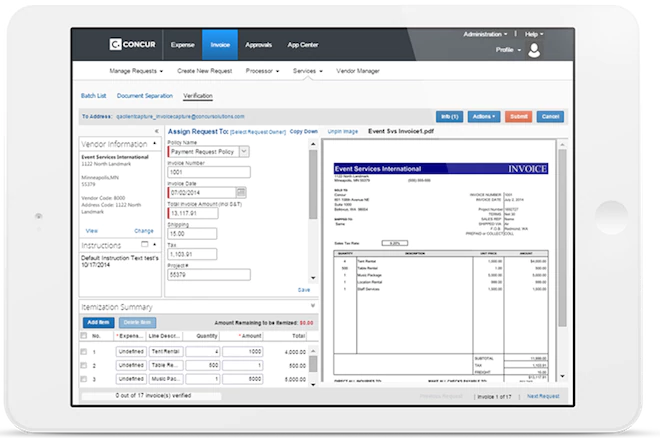 Accelerate invoice processing with the SAP Concur app
Web-based and mobile applications are easy to use and help you to streamline your AP processes, from on-the-go authorization to supplier payment. Match invoices with POs, track the progress of submitted invoices, and expedite approvals and payments – with anytime, anywhere convenience.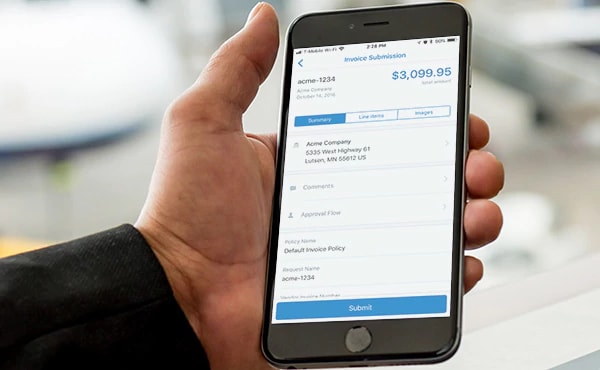 Time payments and control spending with powerful business intelligence tools
When you can see how employees are spending in near real time – or even before the money is spent – you can better forecast cash flow, schedule payments, and identify vendor discount opportunities. BI tools also make it easy to see when accounts were reconciled, run AP aging reports, and proactively track spend against budget.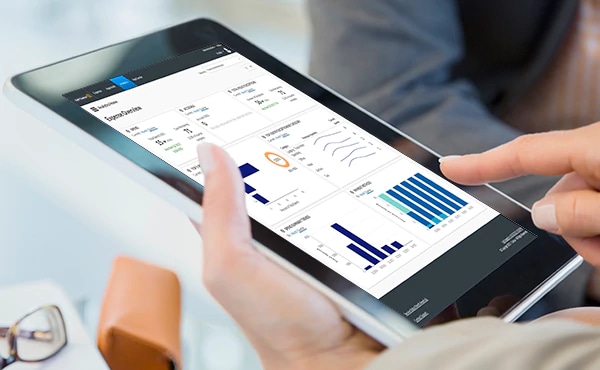 Integrate Concur Invoice with your ERP or accounting system
Concur Invoice integrates your financial, HR and other business-critical systems to deliver all your data, all in one place. It also connects with solutions from other vendors across the procure-to-pay lifecycle for a truly streamlined invoice process. You can also tailor your solution to handle your company's unique AP workflows and policies.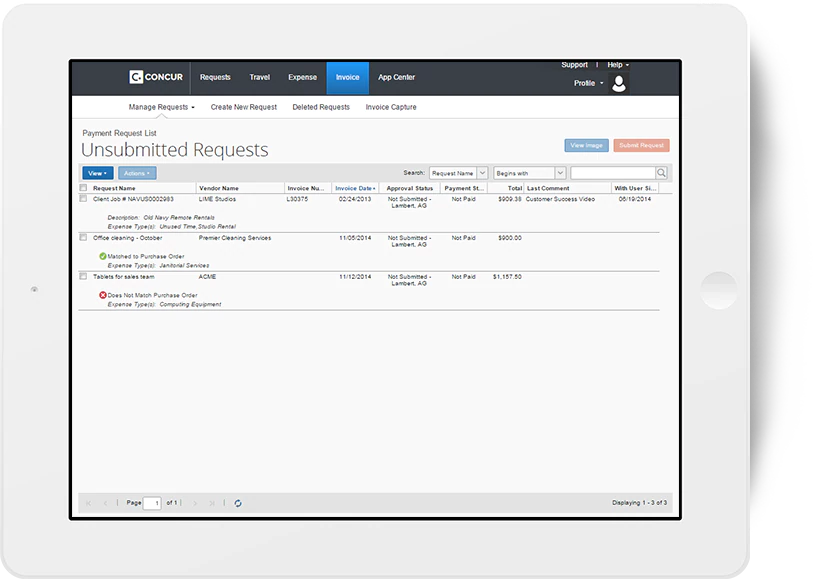 Read about the business value accounts payable automation for today's CFO
CFOs in growing companies have more than the bottom line to worry about. Engaging with employees, customers and suppliers as well as optimizing compliance, efficiency and spend visibility are all on the ever-lengthening list of mandates. Automating accounts payable (AP) can help CFOs meet those challenges head on. This white paper explores the costs and benefits of Concur Invoice with a focus on quantified results:
68% reduced staff time on invoice processing
Near 100% employee compliance
67% decreased late payments to vendors
29% reduced IT staff time required to manage AP solutions
Download whitepaper
We've reduced these errors by over 90% because we're not relying on humans to know and remember all the codes."
IDC White Paper
The Business Value of Concur Invoice
Contact us about a better way to handle expense, travel, and invoice management
Complete the form to have a sales representative contact you, or call (888) 883-8411 today.
Thank you for contacting us about a better way to manage travel, expenses or invoices.
We have received your request for information, and we will be in touch with you soon.
Improve your AP process with an invoice policy
5 tips for reviewing an existing policy or writing a best practice invoice policy for the first time
Keep it simple
The easier an invoice policy is to understand, the easier it is for your employees to follow and for management to enforce. Use simple language that doesn't invite misinterpretation and don't make your policy unnecessarily wordy.
Create as a team
Employees who help build a policy are simply more likely to follow it! Ask team members from different departments to participate in creating your invoice policy to ensure it addresses the pain points faced company-wide.
Reference other policies
Do you already have other policies in place that may affect the management or approval of invoices? Consider referencing such policies as Document Retention, Delegation of Authority, or Segregation of Duties.
Explain the benefits
Whether your reasons for creating a policy are minimizing late vendor charges, managing exceptions consistently or ensuring the company is always audit-ready, explain these reasons in writing to maximize employee buy-in.
Enforce with consistency
When you apply any policy fairly across all employees, they're more likely to embrace it. Ensure that every employee, regardless of position or tenure, respects the policy and keep a record of all actions taken.
To get more tips into invoice policy creation, and a policy template, read the paper, "Taking the Pain Out of Accounts Payable Management".
The easier a policy is to understand, the easier it is for your employees to follow and enforce."
Proformative,
a division of Argyle