Trip organization.
Simplify trip details with one organized itinerary.
When booking business travel, managing all the trip details can be extremely challenging. But, organization of those details is key to ensuring the best possible travel experience. Concur makes it easy by giving you the ability to create one master itinerary with all of your itineraries, receipts and even restaurant reservations in one secure place (regardless of your company's booking tools) … so you can get the job done anywhere in the world.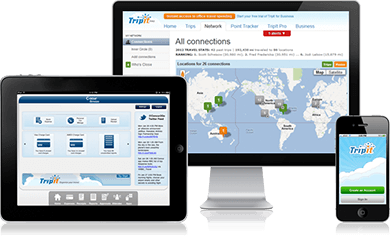 ---
TripIt from Concur: Organize itineraries with ease.
TripIt is a free solution that helps you and your travelers organize all aspects of travel in one place—no matter what corporate booking tool you use to manage your travel program. With TripIt, you can keep everything from air, car and hotel reservations to dining and activity plans in one master itinerary, making travel (and travel planning) much easier.
How does it work? TripIt "automagically" captures your itinerary data from any source and makes all of your travel booking details available online or on your smartphone and even imports them directly into your expense report.
---
Get the most from travel with TripIt Pro
TripIt Pro (available for purchase) is like having your own personal travel assistant. Just like TripIt, it keeps track of your itineraries regardless of where travel was booked. Plus, with a subscription to TripIt Pro, your travelers also automatically receive flight alerts and can view alternate flight options. It even tracks frequent traveler point programs and monitors potential airfare refunds. Traveling with a group? TripIt also provides automated trip sharing. Learn more about TripIt Pro.
TripIt Pro Brochure
---
Gain control and insight.
We all know there are instances - unavoidable instances - where you have to book a flight, a train, a hotel, etc., outside your booking tool. But why should that mean you can't bring that data back into your system? With TripIt Pro integrated into Concur's travel and expense management solution, you'll gain increased visibility to trips booked outside your travel program, giving you clear insight into how your company and employees spend their travel and expense budgets. With Concur, you also have the ability to pre-approve travel requests so spending, booking and compliance stay in check.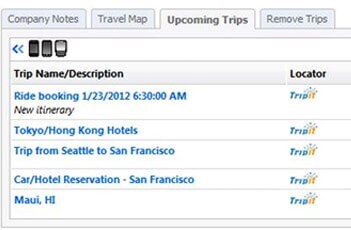 ---
Travel management simplified.
Tired of hunting through your email to print booking reservations and stick them in manila folders for your travelers? TripIt for Business removes the hassle and inefficiency of organizing office travel. Travel arrangers can view the TripIt itineraries for all of their travelers in a single dashboard. They're able to easily track who's traveling when and where. And employees can check each other's travel schedules in a company calendar so that everyone has better visibility. With Concur and TripIt, your travel and expense management is better from start to finish.
TripIt for Business Brochure
---