Each year, the SAP Concur Innovation Awards is an opportunity to celebrate customers who are driving digital innovation and purpose-driven business practices. This is an incredible opportunity to put our customers' stories center stage and showcase the various ways in which they make the world run better with the help of SAP Concur solutions.
How does SAP Concur help your organization run at its best?
Has SAP Concur contributed to making travel and expense management easier for you, your travelers, and/or your internal finance and travel teams? We want to hear from you to potentially make you the hero of your own customer story!
For 2020, SAP Concur is excited to announce that we'll identify seven industry-leading stories of innovation in travel, expense and intelligent spend management – with focus on people, process, and purpose.
What needs to be center stage is your organization's use of SAP Concur solutions to:
Impact employee's time, experience, and finances in a meaningful way
Support your bottom line by improving or evolving your internal travel and expense processes
Solve business or industry challenges that allows your organization to focus on what matters to run your best
Please share your digital transformation and purpose-driven story by nominating your organization here!
And the winner is…
The 2020 SAP Concur Innovation Awards winners will receive:
A complimentary pass to SAP Concur Fusion 2020 in Orlando
Special recognition at SAP Concur Fusion 2020
Star in a custom video shoot that captures your story (winners must be available and able to participate in a custom video shoot)
Prospects for recognition throughout the year (e.g. PR, social amplification, speaking opportunities)
Through September 27, 2019 – you can nominate your organization for its achievements and innovations. Don't miss the opportunity to stand out from the crowd and be the star of your own story!
Customers who run at their best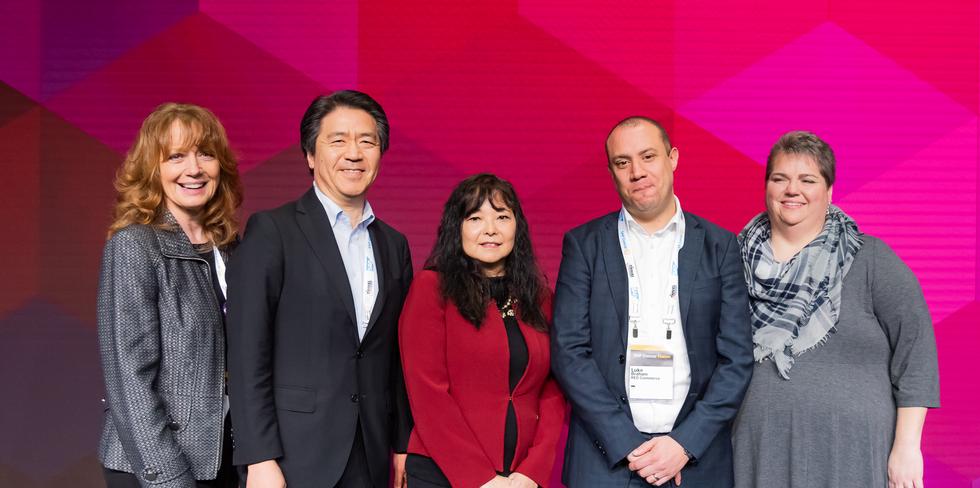 In case you missed it, meet the 2019 Innovation Awards winners that are pushing the boundaries of travel and expense.
Alteryx: An award-winning platform that is revolutionizing business through data science and analytics, Alteryx helps companies deliver game-changing business outcomes. By partnering with SAP Concur, Alteryx has been able to go beyond automation to apply analytics to travel and expenses.
"The innovation we're able to achieve now with SAP Concur is fantastic, and the solutions are simple, easy and helps us all focus on doing what we do best." Libby Duane, Chief Customer Officer and Founder
Discovery: Powering people's passions around the globe with content that inspires, informs, and entertains is how Discovery runs their best. Accelerating innovation to help global audiences explore their world requires a lot of travel for this global leader in real life entertainment, and with SAP Concur solutions, Discovery was able to improve the traveler experience and fulfill their duty of care obligations.
"Having a connected travel ecosystem and access to critical data analysis from SAP Concur is critical to how we effectively manage our travel program." Yukari Catherine Tortorich, VP of Global Travel Service
George Washington University: Located in the heart of Washington, D.C. where the city is the classroom – GW students gain access to leading international institutions, multinational corporations, global media outlets, and governments of 177 countries. With a huge potential for international engagement and travel for students and faculty, the University adopted SAP Concur solutions to improve visibility and control of spend, simply expense processes for users, and provide duty of care for traveling students.
"We are exploring expanding our population of SAP Concur users to include students so that we can leverage integrations to systems supporting study abroad [programs] and provide an improved level of duty of care to our students through tracking and messaging." Donna Gitner, Executive Director
NEC: As a global information technology provider, NEC is committed to creating a safe, secure, efficient, and equal "Solutions for Society" through the power of digital technologies. NEC achieves sustainable management by collaborating with customers globally. Since implementing SAP Concur solutions, NEC has been able to standardize and automate travel and expense processes while achieving cost savings and compliance.
"NEC was one of the first major Japanese companies to start digital transformation by using one of the most advanced approaches in the Japanese market for travel and expense: SAP Concur." Kenichi Sugamuta, Executive VP and Personnel Services Division General Manager
RED: A leading global staffing organization focused on the SAP eco-system, RED's resourcing expertise has resulted in an extensive network of professionals and leaders. RED processes thousands of job openings each year, matching experienced and knowledgeable consultants to organizations globally. With a mission to be the leading talent provider for the entire SAP ecosystem, leveraging SAP Concur solutions for their own travel and expense helps RED to continue to innovate.
"Although SAP Concur is a mandatory solution for the employees, the user experience is so intuitive that training is minimal, and uptake was seamless." Luke Braham, Head of Technology Operations
We hope to see you at SAP Concur Fusion 2020 in Orlando, Florida for an unforgettable experience filled with valuable educational and networking opportunity. More details to come!