IDC White Paper: Exploring the benefits of modern invoice solutions
PREMIUM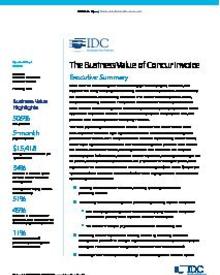 IDC White Paper: Exploring the benefits of modern invoice solutions
The Business Value of Concur Invoice, a new white paper by IDC, sponsored by Concur, explores the costs and benefits of Concur Invoice. Learn how Concur customers are seeing a 505% ROI in the first year and improving invoice management processes by:
Delivering intuitive end-user experiences
Allowing users to submit and approve from their mobile devices
Enhancing compliance
Decreasing the reliance on IT staff Download the whitepaper to learn how organizations are leveraging Concur Invoice to drive efficiency, cost savings and business insights
Download the whitepaper now
Please share a little information about yourself
Enter your contact information and submit this form using the button below to receive marketing communications regarding Concur products, services, events, and special offers. You may withdraw your consent at any time.
*all fields required