E-receipt Management
Working behind the scenes, Concur combines itinerary data captured at the time of booking, corporate card charges incurred by the employee and e-receipts captured directly from the supplier to create a Smart Expense that can automatically populate an expense report.
We created a program that is pioneering the delivery of electronic receipts – complete, live and electronic folio data directly from airlines, hotels, and car rental companies. These e-receipts contain the entire record of a supplier transaction. So, when they feed directly into expense reports you know that the information is accurate. Try to put a price on that.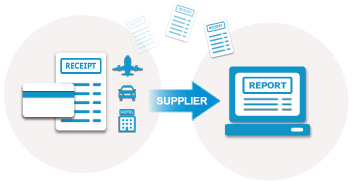 Smart Expense™
A SmartExpense™ is the next step in evolution, for expenses anyway. All sources of data generated during the normal course of travel are automatically recorded and reconciled to ensure accuracy and to flag any problems. With Smart Expenses, airline, hotel or car rental expenses are managed automatically based on the policies and compliance controls you have chosen. That means less chance of human error.
A look behind the scenes
How does smart end-to-end travel and expense management eliminate paper and error-prone manual data entry? It all happens like this:
Employees plan and book their travel based on your company's policies, the traveler's itinerary is captured (whether booked on-line or through the travel agency)
Concur automatically populates your credit card and travel purchases into your expense reports. Since all itinerary data has already been captured, the system actually knows which charges occurred during the course of business travel.
Now, booked or itinerary travel data can be compared to actual expenses within the travel and expense management process. Variances can be instantly identified, policies can be enforced, suppliers can be monitored for compliance with negotiated rates and you can sleep better at night.